To listen to this podcast episode, click on the Play button in the bar at the bottom of the screen. To listen while browsing, click on the Expand button at the bottom right to launch the player in a new browser tab/window.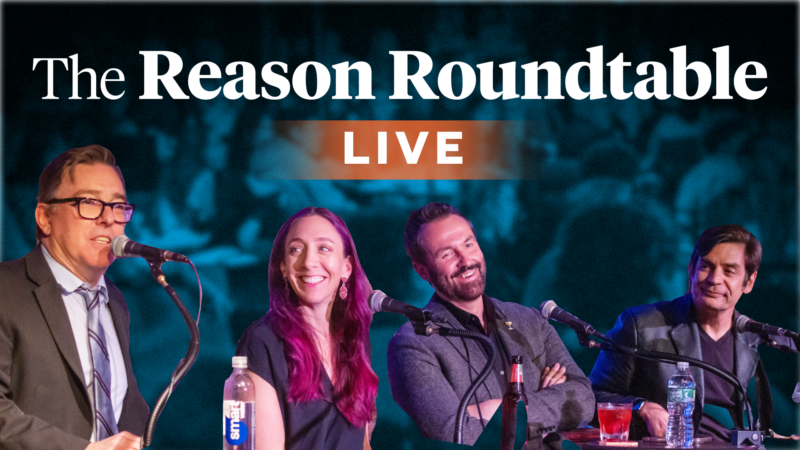 Last week, editors Matt Welch, Katherine Mangu-Ward, Nick Gillespie, and Peter Suderman touched the stage at New York City's eminent Comedy Cellar to record an episode of The Reason Roundtable in front of a live audience. Topics ranged from marijuana aromas to terrible 2024 presidential candidates, and included some geographical sparring over contrasting libertarian lifestyle choices. It's a lively NYC vs. D.C. cage match!
02:45—A profusion of high-profile firings on cable news
07:20—NYC smells like weed (finally!)
20:50—Why THIS presidential candidate would be terrible
36:20—NYC vs. D.C.
51:14—New York-centric cultural recommendations
56:40—Audience Q&A
Mentioned in this podcast:
"Why Is Tucker Carlson Leaving Fox News?" by Robby Soave
"Tucker Carlson is More a Symptom of Our Problems than a Cause" by Ilya Somin
"New York City Should Have Always Smelled Like Pot" by Liz Wolfe
"Bill Bratton: Fighting Crime Without Shredding Civil Liberties" by Nick Gillespie & Zach Weissmueller
"What 'Freedom' Means to Ron DeSantis" by Eric Boehm
"The Very Strange New Respect for Authoritarian Democrat Robert F. Kennedy Jr." by Matt Welch
"Nikki Haley Is Running for President" by Scott Shackford
"During Surprise Trip to Kyiv, Biden Promises Endless Support for Ukraine War" by Christian Britschgi
Send your questions to [email protected]. Be sure to include your social media handle and the correct pronunciation of your name.
Audio production by Ian Keyser
Assistant production by Hunt Beaty
Video edit by Adam Czarnecki
Music: "Angeline," by The Brothers Steve
The post A Bonus Reason Roundtable. Live From New York City! appeared first on Reason.com.