To listen to this podcast episode, click on the Play button in the bar at the bottom of the screen. To listen while browsing, click on the Expand button at the bottom right to launch the player in a new browser tab/window.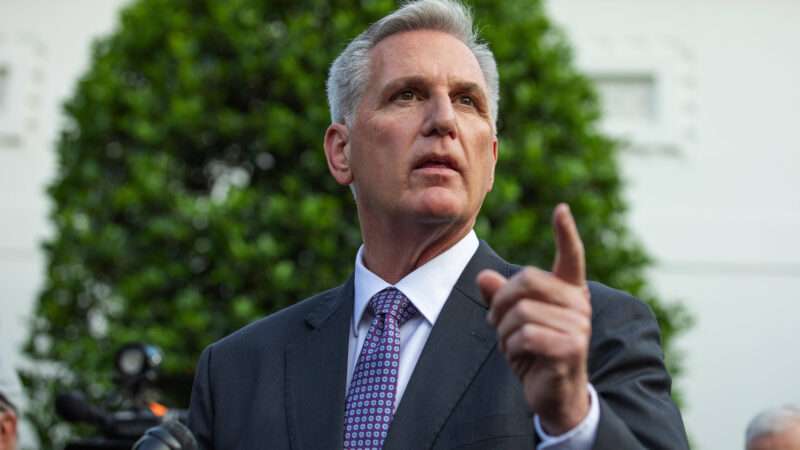 In this week's The Reason Roundtable, editors Matt Welch, Katherine Mangu-Ward, Nick Gillespie, and Peter Suderman break down the politics of a potential government shutdown on the horizon and assess the United Auto Workers strike ahead of the next Republican presidential primary debate.
0:29: Another looming government shutdown
20:02: United Auto Workers strike
27:46: Weekly Listener Question
34:24: The next GOP debate is this week.
42:05: Bob Menendez, senator of sleaze
Mentioned in this podcast:
"It's Government Shutdown Theater, Again," by J.D. Tuccille
"5 Dissenters in the House," by Liz Wolfe
"Congress Is Still Using 'Emergency Spending' on Non-Emergencies," by John Stossel
"Don't Let the Government-Shutdown Charade Distract You From the Debt Crisis," by Romina Boccia
"Shutdown Highlights Basic Fact: Most of Government is 'Non-Essential,'" by Nick Gillespie
"Final Countdown to Government Shutdown," by Meredith Bragg and Nick Gillespie
"Government Shutdown: Planet of the Apes Remix," by Meredith Bragg and Nick Gillespie
"The Government Is Going to Shut Down Again (and That's Bad)," by Andrew Heaton and Sarah Rose Siskind
"5 Sequester Facts To Know Before Committing Suicide," by Meredith Bragg and Nick Gillespie
"Tim Scott Invokes Ronald Reagan and Says UAW Strikers Should Be Fired," by C.J. Ciaramella
"Biden, the 'Most Pro-Union President,' Reaps What He Sows," by J.D. Tuccille
"Strikers Demand 4-Day Workweek," by Liz Wolfe
"Baby Boomers Screwing Younger Workers, Private Sector Edition," by Nick Gillespie
"How to Make Unions More Powerful, the Libertarian Way," by Brian Doherty
"Are We Really Doing a Trump vs. Biden Rematch?" by Steven Greenhut
"Zelenskyy Goes To Washington," by Liz Wolfe
"Gen Xers are most worried with 86% saying they are worried about the future of Medicare and Social Security," according to Allianz Life insurance.
"The Real Class Warfare Is Baby Boomers vs. Younger Americans," by Nick Gillespie
"Generational Swindle: How D.C. Is Screwing Over Millennials," by Nick Gillespie
The Trump campaign's "Whoop a man's ass" commercial
Send your questions to [email protected]. Be sure to include your social media handle and the correct pronunciation of your name.
Today's sponsor:
Do you ever find that just as you're trying to fall asleep, your brain suddenly won't stop talking? Do your thoughts start racing right before bed or at other inopportune moments? It turns out, one great way to make those racing thoughts go away is to talk them through. Therapy gives you a place to do that, so you can get out of your negative thought cycles and find some mental (and emotional) peace. If you're thinking of starting therapy, give BetterHelp a try. It's entirely online. Designed to be convenient, flexible, and suited to your schedule. Just fill out a brief questionnaire to get matched with a licensed therapist, and switch therapists any time for no additional charge. Visit BetterHelp.com/roundtable today to get 10 percent off your first month.
Audio production by Ian Keyser; assistant production by Hunt Beaty.
Music: "Angeline," by The Brothers Steve
The post Are Government Shutdowns Good for Limited Government? appeared first on Reason.com.