To listen to this podcast episode, click on the Play button in the bar at the bottom of the screen. To listen while browsing, click on the Expand button at the bottom right to launch the player in a new browser tab/window.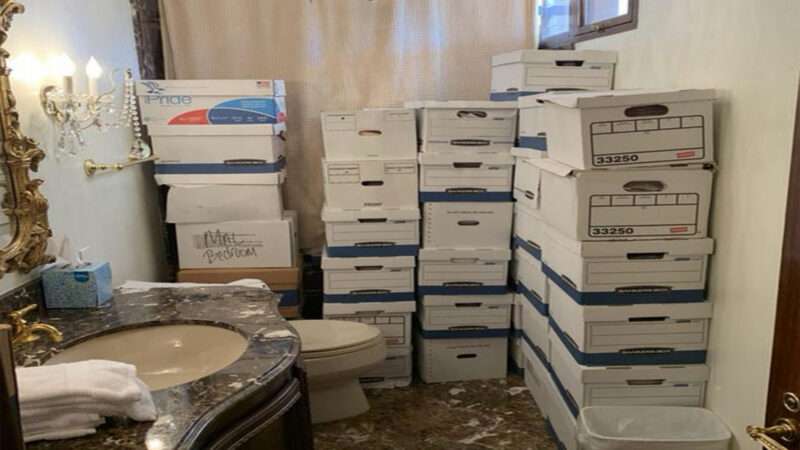 In this week's The Reason Roundtable, editors Matt Welch, Katherine Mangu-Ward, Nick Gillespie, and Peter Suderman break down the latest indictment of former President Donald Trump associated with the collection of classified documents in his Mar-a-Lago home.
0:21: Donald Trump indicted again
31:59: Weekly Listener Question
40:57: Senseless constitutional amendments
49:18: This week's cultural recommendations
Mentioned in this podcast:
"Trump's Own Attorney General Says Indictment Is 'Very, Very Damning,'" by Robby Soave
"Donald Trump Indicted on More Than 30 Charges in Classified Documents Case," C.J. Ciaramella
"Trump Indicted, Faces Federal Criminal Charges Under Espionage Act," by Elizabeth Nolan Brown
"Trump's New York Indictment Was Just the Beginning of His Legal Woes," by Eric Boehm
"Trump's Impeachment Trial Will Only Make Us Hate Washington Even More," by Nick Gillespie
"Let Us Now Thank Donald Trump for Revealing Brutal Truths About How Power and Privilege Operate," by Nick Gillespie
"All This Impeachment Talk Is Pure Trump Derangement Syndrome," by Nick Gillespie
"FBI Director Recommends Against Prosecuting Hillary Clinton Over Email Actions," by Nick Gillespie
"Trump Reportedly Viewed a Supposedly Declassified Document As a Secret He Was Not Allowed To Share," by Jacob Sullum
"Donald Trump's Handling of Classified Material Looks Worse Than Hillary Clinton's," by Jacob Sullum
"Trump's Lawyers Say It's Not Clear Whether 'Purported' Classified Documents at Mar-a-Lago 'Remain Classified,'" by Jacob Sullum
"Gavin Newsom Wants To 'Permanently Enshrine' Gun Control in the U.S. Constitution," by Jacob Sullum
"Hillary Clinton's Use of a Private Email Server Perfectly Explains Why People Don't Trust Her," by Peter Suderman
"Hillary Clinton Keeps Making Untrue Claims About Her Use of a Private Email Server," by Peter Suderman
"What Critics of the FBI's Clinton Investigation Get Right," by Jacob Sullum
"Clinton Lies About Lying About Her Lies," by Jacob Sullum
"Yet Another Shady, Hypocritical Document Hoarder," by Katherine Mangu-Ward, Nick Gillespie, Peter Suderman, and Matt Welch
"How a college term paper led to a constitutional amendment," by Scott Bomboy at the National Constitution Center
"The Public Has a Right To See the Nashville Shooter's Writings," by J.D. Tuccille
Send your questions to [email protected]. Be sure to include your social media handle and the correct pronunciation of your name.
Today's sponsor:
It's so easy to get caught up in what everyone else needs from you, and never take a moment to think about what you need from yourself. But when we spend all of our time giving, it can leave us feeling stretched thin and burned out. Therapy can give you the tools to find more balance in your life—so you can keep supporting others, without leaving yourself behind. If you're thinking of starting therapy, give BetterHelp a try. It's entirely online. Designed to be convenient, flexible, and suited to your schedule. Just fill out a brief questionnaire to get matched with a licensed therapist, and switch therapists any time for no additional charge. Find more balance, with BetterHelp. Visit BetterHelp.com/roundtable today to get 10 percent off your first month.
The Reason Speakeasy. The Reason Speakeasy is a monthly, unscripted conversation in New York City with outspoken defenders of free thinking and heterodoxy. It doubles as a live taping of The Reason Interview podcast and always provides a great evening of camaraderie and conversation about cutting-edge topics and ideas. On June 26, Nick Gillespie talks with Tara Isabella Burton, author of the phenomenal new book Self-Made: Creating Our Identities From Da Vinci to the Kardashians. As in her previous Strange Rites: New Religions for a Godless World, Burton zeroes in on the amazing freedom we have to define our reality and all the complications, problems, and possibilities that come along with such freedom. They'll talk about her findings in Self-Made, whether Kim or Kris is the ultimate Kardashian, the insights she picked up while getting a Ph.D. in theology from Oxford, and how traditional and modern cultures mix uneasily. Tickets are $10 and include beer, wine, soda, food, and plenty of time to talk about politics, culture, and ideas in one of the coolest settings in midtown Manhattan. For details, go here.
Audio production by Ian Keyser; assistant production by Hunt Beaty.
Music: "Angeline," by The Brothers Steve
The post Did Trump Break a Law That Shouldn't Exist? appeared first on Reason.com.