To listen to this podcast episode, click on the Play button in the bar at the bottom of the screen. To listen while browsing, click on the Expand button at the bottom right to launch the player in a new browser tab/window.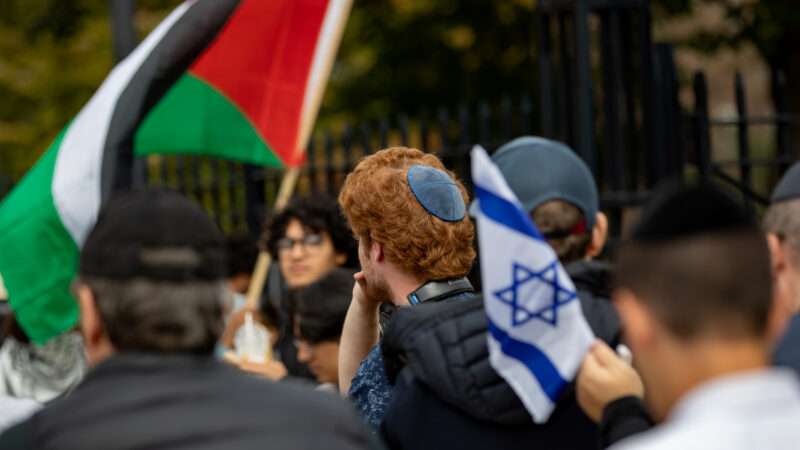 In this week's The Reason Roundtable, editors Matt Welch, Katherine Mangu-Ward, Nick Gillespie, and Peter Suderman continue to survey the Israel-Hamas war a little over a week after the conflict began. They also discuss the array of U.S. reactions to the clash.
2:19: Israel-Hamas conflict continues apace
28:06: U.S. response to the conflict
37:25: Weekly Listener Question
44:58: The search for the next speaker of the House continues.
49:09: This week's cultural recommendations
Mentioned in this podcast:
"Blaming Hamas Shouldn't Mean Ignoring the Palestinians' Plight," by Bonnie Kristian
"Ice Cream Truck Morgues," by Liz Wolfe
"Max Abrahms: Historic Escalation in the Israel-Hamas War," by Zach Weissmueller and Liz Wolfe
"Israel Eases Guns Restrictions Amidst Security Failures," by J.D. Tuccille
"Another Hostage Crisis Bedevils an American President," by Matt Welch
"Memo to Speaker Boehner: If You Won a Congessional Majority Because You Pledged to Cut Spending and You Can't Think of a Single Program to Cut Now, Please Go Home," by Nick Gillespie
"9/11's Lesson: War Doesn't Work," by Nick Gillespie with Stephen Wertheim
"Biden's ATF Can't Stop Cody Wilson's Ghost Guns," by Zach Wiessmueller and Nick Gillespie
"3D Guns Advocate Cody Wilson is About More Than Weapons and That's What Most Frightens People About Him," by Brian Doherty
"5 Other Fake Indians Besides Elizabeth Warren," by Nick Gillespie
"A Radical Takes the Stand," by Katherine Mangu-Ward
"Baby Boomers Are America's Sith Lords," by Nick Gillespie
"American Confetti," Mad magazine's original 1974 parody of American Graffiti
A live Reason Interview podcast taping with Greg Lukianoff and Rikki Schlott on Monday, October 23, in Manhattan.
Send your questions to [email protected]. Be sure to include your social media handle and the correct pronunciation of your name
Audio production by Ian Keyser; assistant production by Hunt Beaty.
Music: "Angeline," by The Brothers Steve
The post Does It Matter What College Kids Say About Israel? appeared first on Reason.com.