To listen to this podcast episode, click on the Play button in the bar at the bottom of the screen. To listen while browsing, click on the Expand button at the bottom right to launch the player in a new browser tab/window.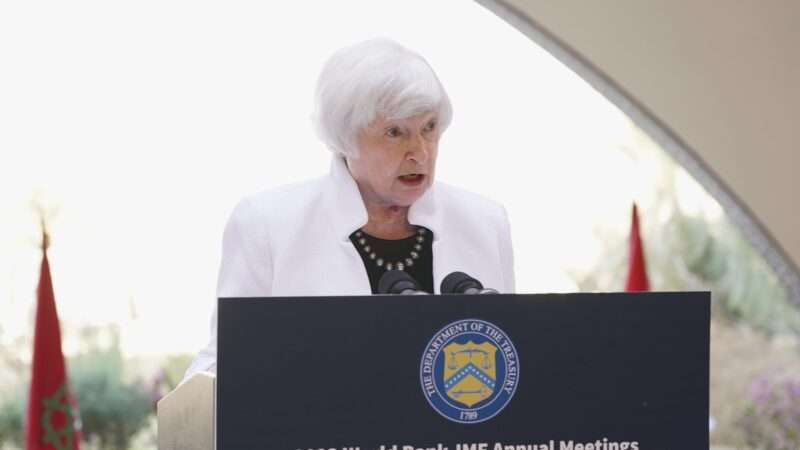 In this week's The Reason Roundtable, editors Matt Welch, Katherine Mangu-Ward, Nick Gillespie, and Peter Suderman assess the latest batch of troublesome responses to the Israel-Hamas war, discuss Janet Yellen's shoddy wartime "girl math", and check in on the weird economy under President Joe Biden.
1:25: Distressing responses to Israel-Hamas war
24:17: Biden's weird economy
34:24: Weekly Listener Question
43:47: Rep. Mike Johnson (R–La.) is the new speaker of the House of Representatives
50:36: This week's cultural recommendations
Mentioned in this podcast:
"Should pro-Hamas students be blacklisted?" by Nick Gillespie
"The Decolonization Narrative Is Dangerous and False," by Simon Sebag Montefiore
"What Should Israel Do Next?" by Ian Bremmer
"3 Myths About American Decline," by Nick Gillespie
"Feeling Good About the Future After an Ugly Election," by Nick Gillespie
"Joe Biden's Endless River of Debt and Regulation," by Nick Gillespie
"The Debt Crisis Is Getting Real," by Eric Boehm
"'Bidenomics' Is Failing Everyday Americans," by Veronique de Rugy
"Inflation Jump Highlights Biden's Vulnerability on Energy," by J.D. Tuccille
"New Speaker Mike Johnson's First Good Idea: A Debt Commission," by Eric Boehm
"Mike Johnson Is the Unlikely New Speaker of the House," by Eric Boehm
"Salman Khan: The Education Visionary," by Nick Gillespie
"'Micro-Schools' Might Be the Next Big Education Thing," by Nick Gillespie and Ian Keyser
"Saturday Night Live Fires New Cast Member Shane Gillis for Using Offensive Language," by Robby Soave
"In French Thriller Anatomy of a Fall, the Law Is No One's Friend," by Peter Suderman
Send your questions to [email protected]. Be sure to include your social media handle and the correct pronunciation of your name.
Check out the new podcast The Best of Reason Magazine. Every Tuesday, listen to a curated selection of some of the best writing from Reason, read aloud to you by a robot voice modeled off Editor in Chief Katherine-Mangu Ward.
Audio production by Ian Keyser; assistant production by Hunt Beaty.
Music: "Angeline," by The Brothers Steve
The post Don't Believe Janet Yellen's Shoddy Wartime 'Girl Math' appeared first on Reason.com.