To listen to this podcast episode, click on the Play button in the bar at the bottom of the screen. To listen while browsing, click on the Expand button at the bottom right to launch the player in a new browser tab/window.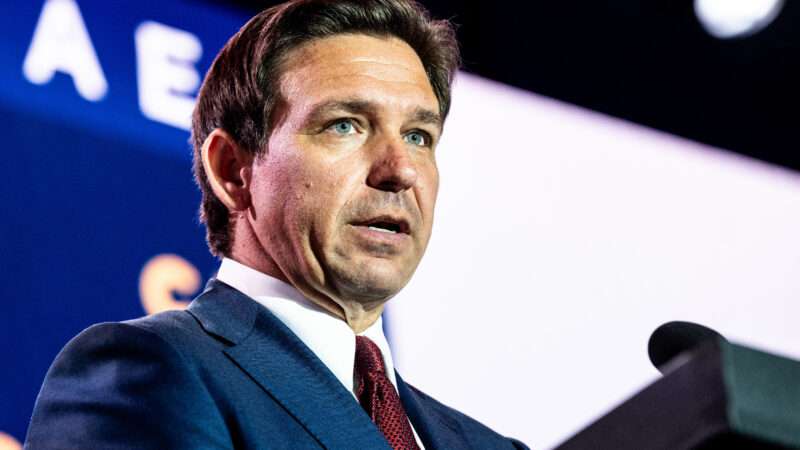 In this week's The Reason Roundtable, editors Matt Welch, Katherine Mangu-Ward, Nick Gillespie, and Peter Suderman critique Florida Gov. Ron DeSantis' plan to investigate the inclusion of Bud Light's parent company AB InBev in the state's pension funds.
00:40: Gov. Ron DeSantis politicizes Florida pension funds.
20:38: The summer of strikes
32:50: Weekly Listener Question
38:50: Robert F. Kennedy Jr. appears before the House Subcommittee on the Weaponization of the Federal Government.
43:53: This week's cultural recommendations
Mentioned in this podcast:
"Ron DeSantis Bullies Bud Light Like Elizabeth Warren Bullies Amazon," by Joe Lancaster
"How Corporations' Good Social and Environmental Intentions Undermine the Common Good," by Samuel Gregg
"DeSantis Unironically Frets About 'Criminalizing Political Differences,'" by Eric Boehm
"Politically Motivated Investment Guidelines Making Bad Public Pension Programs Worse," by Scott Shackford
"Three Reasons to Fix Public Sector Pensions Now," by Nick Gillespie and Todd Krainin
Is ESG a threat to capitalism? Live with Samuel Gregg, Russ Greene, and Zach Weissmueller
"Don't Expect Unions To Make a Comeback," by Nick Gillespie
"America Needs a Better Kind of Capitalism," by Veronique de Rugy
"UPS vs. FedEx: Ultimate Whiteboard Remix," by Nick Gillespie and Meredith Bragg
"Artifact: War's Nightmare Landscape," by Nick Gillespie
"Why Color Atom Bomb Footage of Hiroshima & Nagasaki Was Censored by the Government for Decades," by Nick Gillespie
"Obama, Trump, and the Nuking of Hiroshima," by Steve Chapman
Send your questions to [email protected]. Be sure to include your social media handle and the correct pronunciation of your name.
Audio production by Luke Allen; assistant production by Hunt Beaty.
Music: "Angeline," by The Brothers Steve
The post Get Your Culture War Out of Our Pension Funds appeared first on Reason.com.