To listen to this podcast episode, click on the Play button in the bar at the bottom of the screen. To listen while browsing, click on the Expand button at the bottom right to launch the player in a new browser tab/window.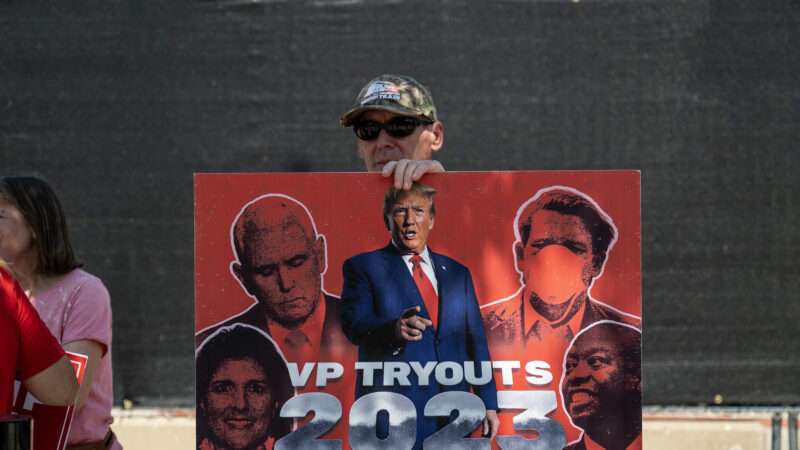 In this week's The Reason Roundtable, editors Matt Welch and Katherine Mangu-Ward welcome special guests Eric Boehm and Zach Weissmueller for a post-mortem examination of the first Republican presidential primary debate last week and to discuss reactions to former President Donald Trump's mug shot.
0:42: First Republican presidential primary debate
23:08: Donald Trump's interview with Tucker Carlson
32:17: Weekly Listener Question
55:34: Persistent back-to-school COVID measures
Mentioned in this podcast:
"There Were No Anti-Interventionist Candidates at the GOP Debate," by Christian Britschgi
"Nikki Haley Burned Trump and Her Fellow Republicans for Blowing Up the Debt. She's Right." by Eric Boehm
"A GOP Consensus Emerges: Militarize the Border," by Fiona Harrigan
"Nikki Haley Slams Biden's 'Green Subsidies,'" by Joe Lancaster
"Vivek Ramaswamy: 'The Only War I Will Declare…Is on the Administrative State,'" by Robby Soave
"Vivek Ramaswamy's Popular Incoherence," by Matt Welch
"Candidates Spar Over National Abortion Ban in First Republican Debate," by Elizabeth Nolan Brown
"Tucker Carlson's Sycophantic Interview With Trump Illustrates the Advantages of Skipping the Debates," by Jacob Sullum
"Stop Publishing Mug Shots—Even Donald Trump's," by Billy Binion
"Baltimore Orioles Owners Demand Even More Unnecessary Taxpayer Money," by Jason Russell
"The Oakland Athletics Just Showed Why They Don't Need Taxpayers To Buy Their New Stadium," by Eric Boehm
"Voters Put Arizona Coyotes' Arena Project on Ice," by Eric Boehm
"Stadium Subsidy Stupidity Hits New Record," by Jason Russell
"The Expensive, Seductive Nostalgia of Field of Dreams," by Matt Welch
"Dozens of Colleges Still Require COVID Vaccines for Students," by Emma Camp
Send your questions to [email protected]. Be sure to include your social media handle and the correct pronunciation of your name.
Today's sponsor:
Sometimes we're faced with a crossroads in life, and we don't know which path to take. Maybe you're thinking about a career change or feeling like your relationship needs some TLC. Whatever it is, therapy can help you map out your future, and trust yourself to find the way forward. If you're thinking of starting therapy, give BetterHelp a try. It's entirely online and designed to be convenient, flexible, and suited to your schedule. Just fill out a brief questionnaire to get matched with a licensed therapist, and switch therapists any time for no additional charge. Let therapy be your map, with BetterHelp. Visit BetterHelp.com/roundtable today to get 10 percent off your first month.
Audio production by Ian Keyser; assistant production by Hunt Beaty.
Music: "Angeline," by The Brothers Steve
The post GOP Debate Stuff We Didn't Hate appeared first on Reason.com.