To listen to this podcast episode, click on the Play button in the bar at the bottom of the screen. To listen while browsing, click on the Expand button at the bottom right to launch the player in a new browser tab/window.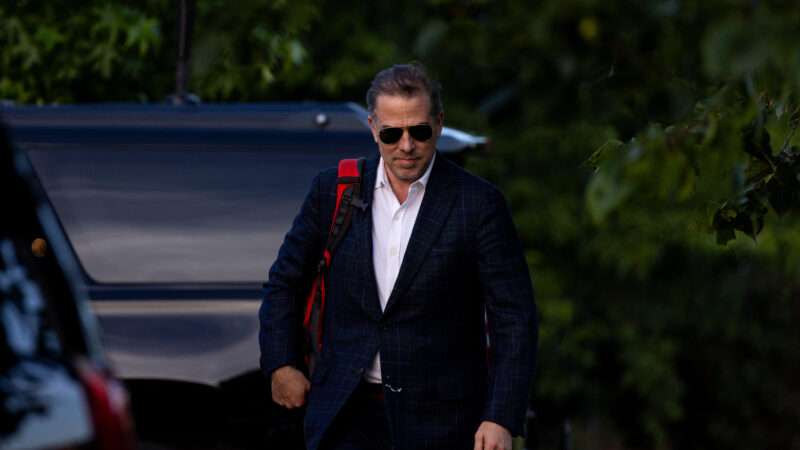 In this week's The Reason Roundtable, editors Matt Welch, Katherine Mangu-Ward, Nick Gillespie, and Peter Suderman pore over last week's indictment of Hunter Biden on federal gun charges and weigh in on Ukrainian President Volodymyr Zelenskyy's upcoming meeting with President Joe Biden.
1:00: Hunter Biden indicted on federal gun charges
23:39: Ukrainian President Volodymyr Zelenskyy to meet with President Biden next week
32:56: Weekly Listener Question
46:40: Robert F. Kennedy Jr.'s environmental plan
Mentioned in this podcast:
"There's Plenty of Evidence of Corruption Around Biden," by J.D. Tuccille
"Without a Diversion Agreement, Hunter Biden Could Go to Prison Under an Arbitrary Gun Law His Dad Supports," by Jacob Sullum
"How Hunter Biden's Plea Deal Fell Apart," by Jacob Sullum
"All Drug Offenders Should Be Treated Like Hunter Biden: Leniently," by Nick Gillespie
"Hunter Biden's Prison-Free Plea Should Be Available to Everybody," by J.D. Tuccille
"Squirtle's seen some shit, man," by Nick Gillespie
"Kevin McCarthy's Impeachment Inquiry Provokes Predictably Polarized Reactions," by Christian Britschgi
"Is a Government Shutdown Better Than More Reckless Borrowing?" by Eric Boehm
"Don't Let the Government-Shutdown Charade Distract You From the Debt Crisis," by Romina Boccia
"Ukraine Changes the Face of War Forever," by Nick Gillespie and Regan Taylor
"Should America keep funding Ukraine? Live with Emma Ashford, Nick Gillespie, and Zach Weissmueller"
"Ukraine Crisis: U.S. Must Use Restraint," by Nick Gillespie with Will Ruger
"Debate: The U.S. Should Increase Funding for the Defense of Ukraine," by Cathy Young and Will Ruger
"RFK Jr.: The Reason Interview," by Nick Gillespie and Zach Weissmueller
"RFK Jr. wanted to prosecute 'climate deniers.' Has he changed?" by Nick Gillespie and Zach Weissmueller
"RFK Jr.'s long con," by Liz Wolfe
"The Very Strange New Respect for Authoritarian Democrat Robert F. Kennedy Jr.," by Matt Welch
"The Top 5 Lies About Fracking," by Ronald Bailey
Send your questions to [email protected]. Be sure to include your social media handle and the correct pronunciation of your name.
Audio production by Ian Keyser; assistant production by Hunt Beaty.
Music: "Angeline," by The Brothers Steve
The post Hunter Biden Gets Caught in America's Double War on Drugs and Guns appeared first on Reason.com.