To listen to this podcast episode, click on the Play button in the bar at the bottom of the screen. To listen while browsing, click on the Expand button at the bottom right to launch the player in a new browser tab/window.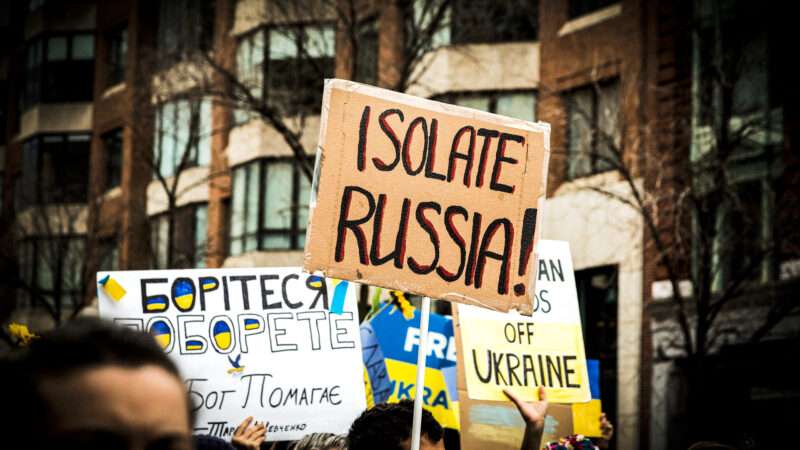 Reason editors Matt Welch, Peter Suderman, Katherine Mangu-Ward, and Nick Gillespie discuss attempts to isolate Russia from the rest of the world.
2:28: Americans boycotting all things Russia.
31:26: Weekly listener question: The Cork Opera House canceled an upcoming performance of Swan Lake by the Royal Moscow Ballet. FIFA has said that Russia will not be allowed to compete in the World Cup. And the Eurovision Song Contest announced Russia will not participate in the 2022 show. On the Reason website, Christian Britschgi (March 2, 2022) makes the case that Russian civilians are not in any way responsible for this or any of the actions of an authoritarian government: "Russian tanks have entered Ukraine, so Disney's films can't enter Moscow's cinemas?" The Economist tweeted, "The world must be willing to bleed Vladimir Putin's regime of the resources that enable him to wage war and abuse his own people even if that imposes costs on Western economies." I suspect that sanctions, such as the ones The Economist calls for, will hurt the most vulnerable in Russia's population. I think there is something of a consensus that Putin believes that Russia ought to be an imperialist nation, and he craves to be a large player on the world stage, such that Russia is respected as a world-class power. Is it possible that the snubbing of Russian performances will have no effect on Putin?
41:22: Biden's State of the Union address
This week's links:
Send your questions to [email protected]. Be sure to include your social media handle and the correct pronunciation of your name.
Today's sponsors:
We all want to make sure our family is protected in a medical emergency. What many of us don't realize is that health insurance won't always cover the full amount of an emergency medical flight. Even with comprehensive coverage, you could get hit with high deductibles and co-pays. That's why an AirMedCare Network membership is so important. As a member, if an emergency arises, you won't see a bill for air medical transport when flown by an AMCN provider. Best of all, a membership covers your entire household for as little as $85 a year. Now, as a listener of our show, you'll get up to a $50 Visa or Amazon Gift Card with a new membership. Simply visit AirMedCareNetwork.com/reason, and use offer code REASON.
You may not be feeling down and out, depressed, or like you're at a total loss. But if your stress is high, your temper is shorter than usual, or even if you're starting to feel strain in any of your relationships, you could probably use the chance to unload. Unload the stress and get it out. Talk to someone who's completely unbiased about your life, someone who isn't going to judge you or take sides on anything. When there are things you can't tell anyone or feel like you can't unload to family and friends, you need to unload it, and that's what therapy can be. BetterHelp is customized online therapy that offers video, phone, and even live chat sessions with your therapist, so you don't have to see anyone on camera if you don't want to. It's much more affordable than in-person therapy, and you can start communicating with your therapist in under 48 hours. Unload the stressors, and get some unbiased feedback. You'd be pretty surprised at what you might gain from it. See if it's for you. This podcast is sponsored by BetterHelp and The Reason Roundtable listeners get 10% off their first month at BetterHelp.com/Roundtable. That's BetterHelp.com/Roundtable.
Audio production by Ian Keyser
Assistant production by Adam Czarnecki
Music: "Angeline," by The Brothers Steve
The post Sanctions Won't Defeat Russia appeared first on Reason.com.