To listen to this podcast episode, click on the Play button in the bar at the bottom of the screen. To listen while browsing, click on the Expand button at the bottom right to launch the player in a new browser tab/window.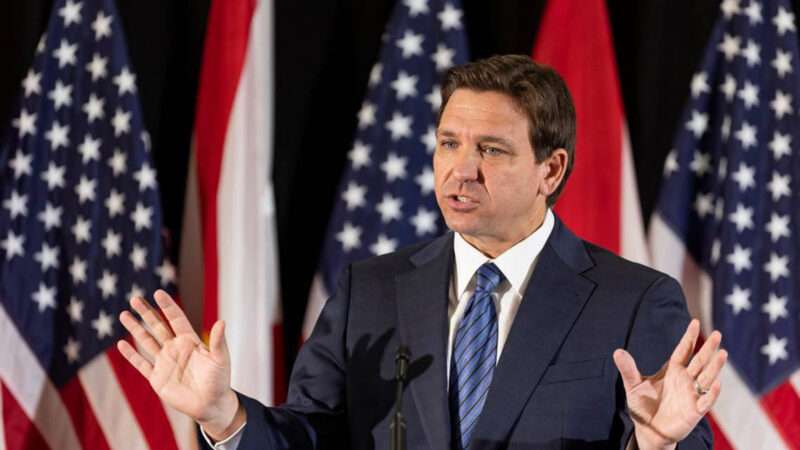 In this week's The Reason Roundtable, editors Matt Welch, Katherine Mangu-Ward, Nick Gillespie, and Peter Suderman mull over last week's ruling against the Biden administration concerning politically disfavored speech on social media as well as Twitter's latest competitor—Threads—and the latest from the Ron DeSantis campaign.
0:25: A federal judge orders Biden administration officials to stop encouraging social media companies to censor disfavored content.
19:57: Threads: Meta's Twitter competitor
31:50: Weekly Listener Question
39:14: The "Mamas for DeSantis" initiative
51:08: This week's cultural recommendations
Mentioned in this podcast:
"Social media injunction unravels plans to protect 2024 elections," by Cat Zakrzewski, Naomi Nix, and Joseph Menn
"Federal Judge to Biden Administration: Stop Telling Social Media Sites To Limit Free Speech," by Eric Boehm
"Journalists Outraged That a Judge Would Dare Limit Biden's Censorship Powers," by Robby Soave
"'Mamas for DeSantis' Is Proof: The DeSantis Campaign Is Too Online," by Emma Camp
"US podcast misinformation goes largely unchecked," by Rob Lever
"'Build the wall,' Florida gubernatorial tells his young daughter in campaign ad," by Erin B. Logan
Casey DeSantis' "Mamas for DeSantis" campaign ad on Twitter
"Ron DeSantis: Good or Bad for Liberty?" by Nick Gillespie and Zach Weissmueller with Karol Markowicz
"What DeSantis Did to Disney's Dream City," by Zach Weissmueller
"The Casey DeSantis Problem: 'His Greatest Asset and His Greatest Liability,'" by Michael Kruse
Ron DeSantis' "Top Gov" 2022 ad
Ron DeSantis' pro-Trump 2018 gubernatorial ad
"How 'disinformation' became public enemy No. 1," by Nick Gillespie and Zach Weissmueller with Jacob Siegel
"Did SCOTUS roll back gay rights and civil rights?" by Nick Gillespie with Coleman Hughes and Walter Olson
"'60s Songs That Explain the '90s': 'Tubthumping' and the Chart-Topping Anarchists," by Rob Harvilla
"A Strange Museum Takes a Strange Turn," by Stephen Wahrhaftig
Send your questions to [email protected]. Be sure to include your social media handle and the correct pronunciation of your name.
Today's sponsor:
Health insurance is broken. Premiums are increasing, deductibles are getting larger, and claims denials are becoming more common. The headache of health insurance is exactly why CrowdHealth was created. It's not health insurance—it's a better way to pay for health care through crowdfunding. CrowdHealth gives its members the freedom to efficiently and affordably break free from the antiquated insurance system and into a health care option that fits their needs. The insurance companies don't give you the peace of mind you need. CrowdHealth does. That's why your $50/month membership includes the tools and services you need to get the highest quality health care. You'll get access to telemedicine visits, discounted prescriptions, and so much more, without doctors' networks messing things up. Plus, you'll have access to your own personal care advocate, who will help you navigate the complexities of health events and even negotiate bills on your behalf. And of course, you'll join the Crowd—a group of members just like you who want to help pay for each other's unexpected medical events. It's time you opt out of restrictive health insurance plans and let CrowdHealth help fit your health care needs. Get started today for just $50 per month. Use code

ROUNDTABLE

to get the health care you deserve. CrowdHealth is not insurance. Learn more at

joincrowdhealth.com

, c

ode

ROUNDTABLE.
Audio production by Ian Keyser; assistant production by Hunt Beaty.
Music: "Angeline," by The Brothers Steve
The post The Courts vs. Misinformation Cops appeared first on Reason.com.